Concurso PowerHouseCreatives | Half moon of corn
febrero 15, 2020
This week @zord189 gave me a hard time (laughs) because cooking is not my art. However, I want to join him in this challenge. Venezuela has many attributes, and one of them is gastronomy.
I can mention some of them like hallacas, cuajado, cachapas and the spectacular arepas and empanadas.
Venezuelan food in essence is very simple but delicious; it does not require big or strange condiments and although it seems to be the same seasoning, it all depends on the individuality of each person. For example, the typical empanadas are basically corn dough but the taste is in the filling. There are empanadas made with cheese, fish, chorizo, meat, cheese, squids and many other shapes.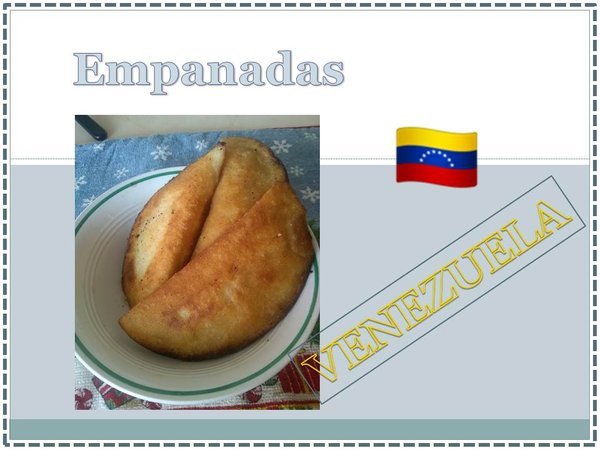 Today I bring you those delicious empanadas. Here, the one who sells empanadas has a kind of war cry: «Empanaaaada, empanada de cazón, de queso y de carneeeee».
Well, I'll leave you with my shout:
Empanaaada, cheese and banana empanada!
Cheese and banana empanadas.
| Ingredients: Corn flour, Water, Salt, Shredded cheese, Fried banana slices, Edible Oil | |
| --- | --- |
Preparation
-Prepare the corn flour, salt and water mixture. Knead it until it is compact and smooth.
-Put in a piece of plastic; in this case I used a discarded package.Wet the plastic with water and oil so that the dough does not stick. Make a little ball with the dough and then crush it.
-Place the filling; cheese and banana.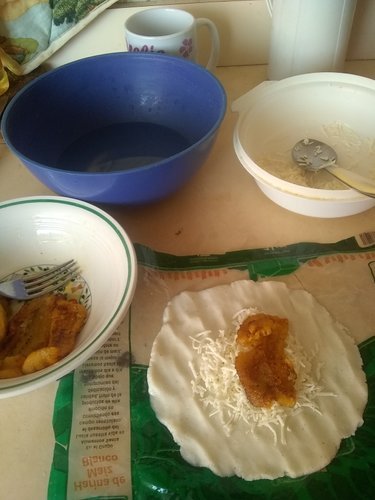 -Join the ends and make a half moon shape.
-Fry.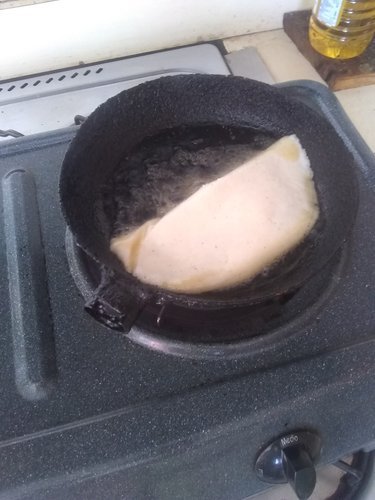 Hummm!!! They were delicious and not because I say so, ask the diners ha, ha, ha. I owe you pictures of your faces eating empanadas.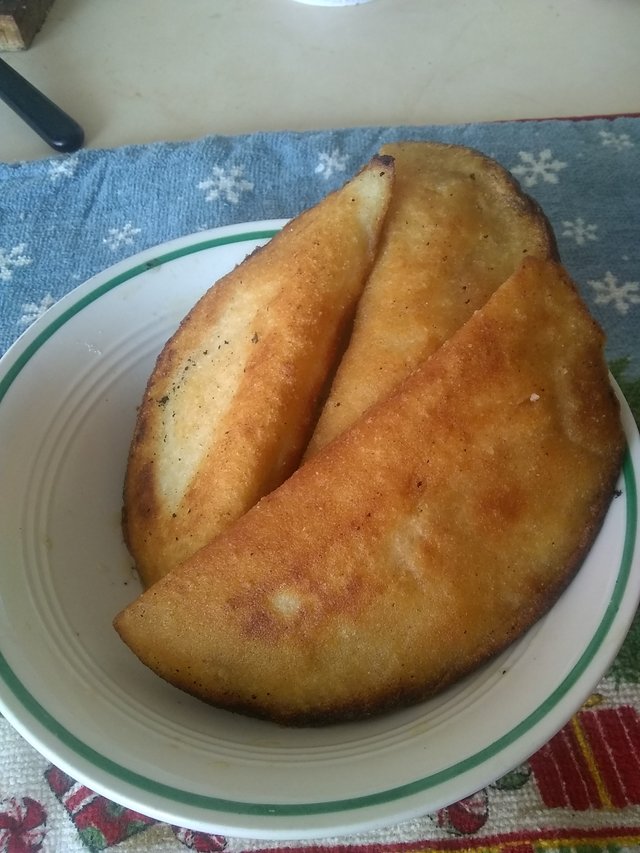 This dough, is prepared with a little sugar and wheat flour in water, before adding the corn flour, to make it softer but I don't have any. That's why I made them only with cornmeal. For the filling you just have to be a little creative. The cooking doesn't take long.
Friend @zord189, this is my entry to the PowerHouseCreatives Contest. Thank you for this opportunity to open the doors of our kitchen to the world to make known the specialty of the house. This is just a little bit of how much we can show. I enjoyed the cooking and the preparation of the publication.